Read Time:
3 Minute, 19 Second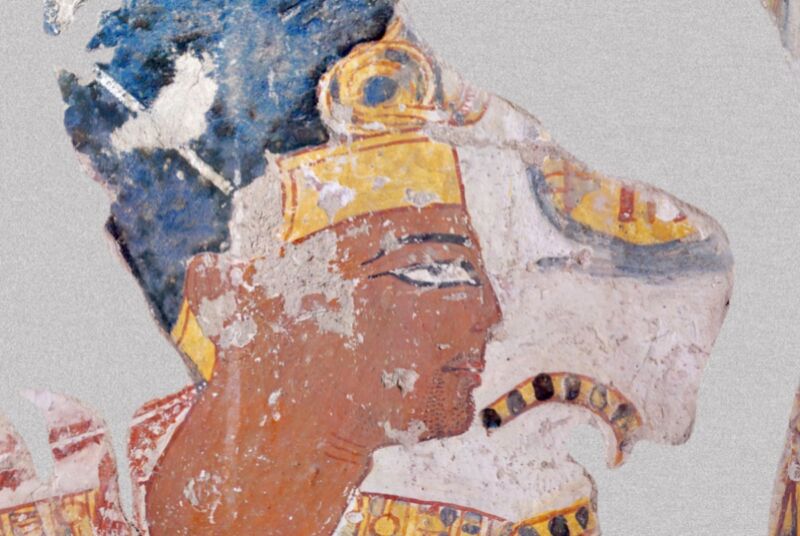 Researchers have found evidence of earlier versions of two ancient Egyptian paintings in burial chapels in the Theban Necropolis, according to a new paper published in the journal PLoS ONE. In one, there's a ghostly third hand partially hidden under a white overprinted layer; the other has modifications to the crown and other royal items in a portrait of Ramesses II. These discoveries were made with a portable macro X-ray fluorescence (MA-XRF) imaging device that allowed the researchers to analyze the paintings on site, without the need for physical samples.
X-rays are a proven tool to help analyze and restore valuable paintings, because the higher frequency of the rays means they pass right through paintings without damaging them. X-rays can reveal anything painted on a canvas or where the artist has altered his (or her) original vision. For example, Vermeer's Girl reading a letter by an open window was first subjected to X-ray analysis in 1979, revealing the image of a Cupid lurking beneath the overpaint. In 2020, a team of Dutch and French scientists used high-energy X-rays to discover Rembrandt's secret recipe for his famous pasta technique, which is believed to be lost to history.
In 2021, scientists used macro-X-ray fluorescence imaging to map the distribution of elements in the paint pigments of Jean-Louis David's famous portrait of 17th-century chemist Antoine Lavoisier and his wife Marie-Anne, including the paint that was buried beneath the surface – to create detailed elementary maps for further study. Earlier this year, scientists used X-ray powder diffraction mapping and synchrotron micro-X-ray analysis to study Rembrandt van Rijn's 1642 masterpiece The Night Watchand found rare traces of a compound called lead formate.
In 2022, Dutch and Belgian scientists used X-ray imaging techniques to investigate the elemental distribution of the various pigments in a yellow rose that features prominently in 17th-century painter Abraham Mignon's Still life with flowers and a watch to understand why it had become flattened and monochromatic, especially when compared to the other flowers in the painting.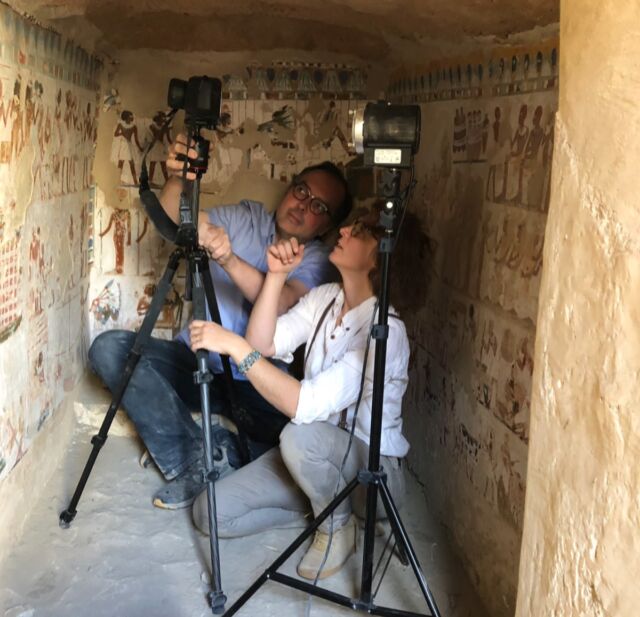 That same year, conservationists performed an X-ray analysis of Vincent van Gogh's Head of a peasant woman and discovered a hidden self-portrait on the back of the canvas. Nor was it the first time that a Van Gogh painting had been subjected to X-ray analysis. In 2008, European scientists used synchrotron radiation to reconstruct the hidden portrait of a farmer's wife painted by Van Gogh.
In particular, MA-XRF imaging has previously been used (in combination with hyperspectral imaging) to study a Greco-Roman painted tomb portrait from the second century AD, as well as to determine the remains of color on marble at Delphi in Greece. Now the portable MA-XRF imaging device developed for one of the Delphi surveys is being applied to the study of ancient Egyptian paintings, part of a wider project examining burial chapels in the Theban Necropolis. Many tombs for high officials had chapels whose walls were decorated with painted murals depicting the deceased in life and their future in the underworld.
It is known that the ancient Egyptians had a highly formalized (and easily recognizable) style of painting, and there was a great deal of interest in understanding the specific pigments and painting techniques used to create the tomb paintings. Scholars have generally believed that the process began with the drawing of a preliminary sketch in red ocher on a smooth stucco wall, followed by the application of a white or colored background. Other colors were then layered using different pigment mixtures and the final outline was drawn mainly with red ochre. Spilled paint was painted over with opaque white.