Read Time:
3 Minute, 2 Second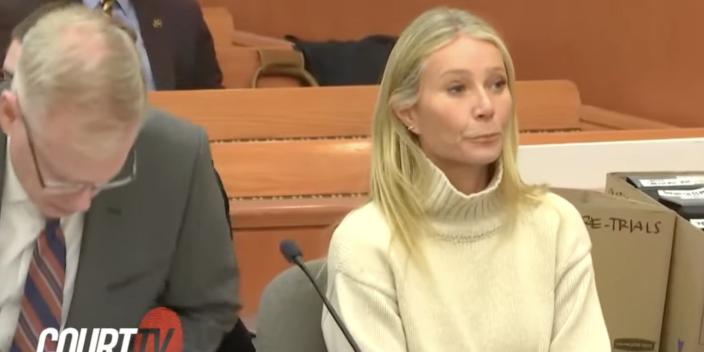 A witness in the 2016 skiing accident trial involving Gwyneth Paltrow said Paltrow was guilty.

Retired optometrist Terry Sanderson and Paltrow sued each other for negligence over the crash.

Greg James Ramone, a skiing acquaintance of Sanderson, said Paltrow collided with Sanderson.
An eyewitness who was skiing with the man Gwyneth Paltrow accused of colliding with him on a mountain in Utah testified Tuesday that the movie star took responsibility for the collision before she skied off.
Paltrow was sued by retired optometrist Terry Sanderson over a 2016 ski collision on a beginner slope at Utah's Deer Valley Resort that left Sanderson with four broken ribs and a traumatic brain injury. On Tuesday, after opening arguments, a star witness who was in a ski meet group with Sanderson and by his side that day said Paltrow crashed into Sanderson.
After Sanderson sued the "Goop" creator in 2019, Paltrow also sued Sanderson for negligence, claiming he bumped into her. The lawsuit revolves around the dueling negligence claims, with Sanderson seeking $3 million in damages and Paltrow seeking $1.
On Tuesday, during direct questioning by Sanderson's attorney Lawrence Buhler, Greg James Ramone, a retired glass company owner and acquaintance of Sanderson's who was on the ramp with him that day, testified that he saw Paltrow against his friend's back that day. to collide.
Paltrow, who wore a beige turtleneck knit, was especially stoic as the story unfolded on Tuesday.
"I heard this scream, I looked back and then I saw this skier hit Terry (Sanderson)'s back," Ramon told the court, referring to Paltrow. "Very hard, and she hit him right in the back."
Ramone said Sanderson fell face-first with his skis split, with Paltrow on top of his back. Eric Christiansen, a Deer Valley ski instructor who teaches Paltrow's son, approached them and yelled at Sanderson, who didn't respond, Ramone testified.
"He was very hostile. Finally I said to him 'man you need to slow down on this'," Ramone testified, referring to his interaction with the ski instructor. The instructor shouted "what have you done?" to an unconscious Sanderson, Ramone testified.
Paltrow picked himself up and left the crime scene minutes after the collision, according to Ramone and Sanderson's attorney.
"She just bolts and leaves, she just went straight down," Ramone said. "You never leave an accident behind, you make sure everyone is okay, you give contact information to each other."
Christiansen and the resort were initially listed as co-defendants, as Sanderson claimed the instructor lied in a report stating that Sanderson crashed into Paltrow. In 2022, Third District Judge Kent Holmberg dismissed the additional claims of negligence and emotional distress against the instructor and the ski resort, citing a lack of evidence.
Ramone testified that Sanderson "kept talking about his ribs" after the crash and that he eventually took Sanderson to the ski patrol, and later to a mountain nurse because he feared for Sanderson's cognitive abilities at the time.
Paltrow's attorney did not immediately respond to Insider's request for comment. Sanderson's attorney declined to comment.
During cross-examination, Ramone waved at aspects of his statement and was questioned by Paltrow's attorney about the amount of time Paltrow was at the scene after the accidents, and how close friends he and Sanderson were prior to the crash.
In particular, Ramone denied knowing the contents of an email Sanderson sent to relatives hours after the crash titled "I'm Famous." Ramone also denied to Paltrow's attorney, Steve Owens, that he and Sanderson visited a moose ranch together.
Read the original article on Insider