Read Time:
3 Minute, 27 Second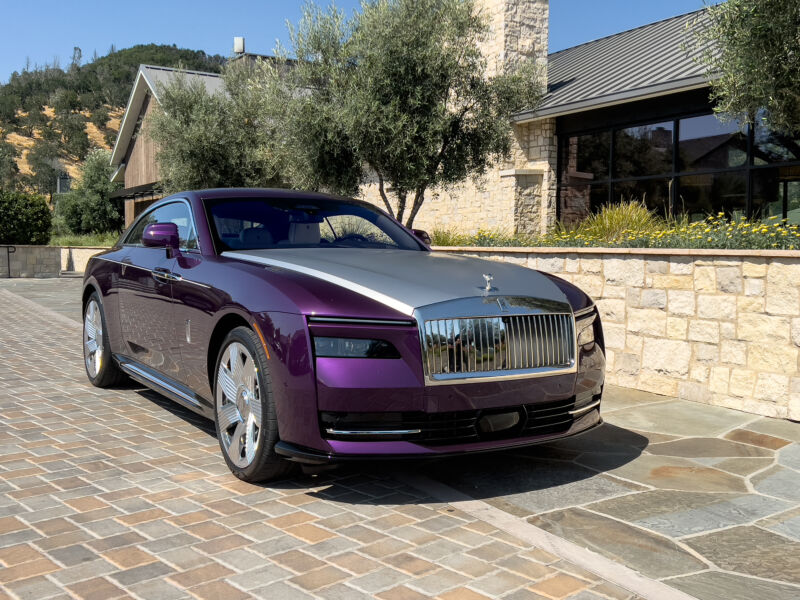 A fully electric Rolls-Royce has been in the works for several years. In 1900, Charles Stewart Rolls proclaimed the suitability of the electric motor for automobiles – quiet, smooth and exhaust-free are all great qualities for a luxury car. The problem then was a lack of charging stations, something that seems to be improving 123 years later. That means the world is now ready for the Spectre.
As you'd expect from a car sporting the pantheon grille and Spirit of Ecstasy mascot – here subtly redesigned for improved aerodynamic efficiency – there's little shy or withdrawn about the Spectre, especially when it's a vibrant purple, as was the case for our test car.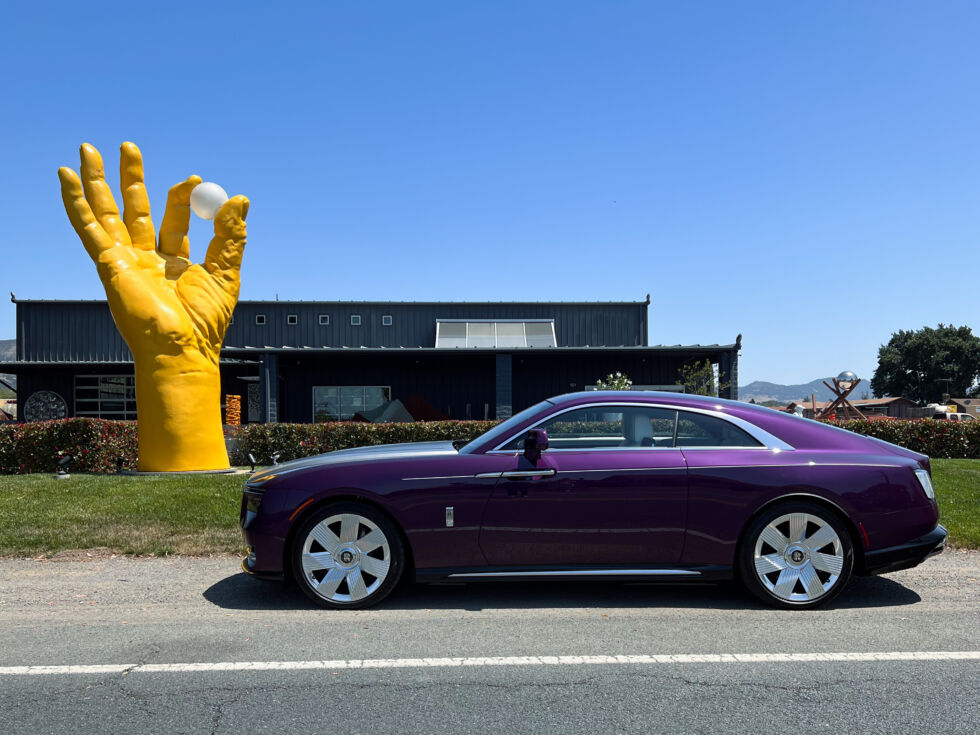 It is a two-door, four-seat coupe as well as a large one: 215.6 inches (5,475 mm) long, 79.4 inches (2,017 mm) wide, and 61.9 inches (1,573 mm) tall, with a curb weight of 6,371 lbs ( 2,890 kilograms). Despite this, the slightly Art Deco-inspired shape cleaves through the air with a drag coefficient of 0.25 – the shape spent over 800 hours in the wind tunnel, which is about twice as much time as F1 cars are currently allowed.
Underneath the Specter, the Specter uses Rolls-Royce's Architecture of Luxury flexible platform, which uses cast and extruded aluminum to create a highly rigid space frame in almost any size the designers could require. The architecture is designed to be powertrain agnostic, and the addition of a battery pack between the sills means the Specter has by far the greatest torsional stiffness of any Rolls-Royce to date, about 30 per cent greater than the Rolls-Royce Ghost.
Although Rolls-Royce published one of its founders' first words about the need for "fixed charging stations", customer feedback showed that Rolls-Royce wants to do mass charging at home or in the office, we were told during our briefing for the to ride.
Little more was said about the charging experience for the Spectre. I had to check that it did indeed have a DC fast charging port – it does, with CCS1 – and 10-80 per cent state of charge should take 34 minutes at 195kW max, according to the press kit. But let's be completely clear here: Rolls-Royce owners don't really take road trips. 500 mile trips are for helicopters or planes, and the owners can pick up one of their other cars when they land.
The Specter uses a twin engine powertrain. The front axle motor generates 255 hp (190 kW) and 270 lb-ft (365 Nm), the rear axle generates 483 hp (360 kW) and 524 lb-ft (710 Nm), with a combined maximum power of 584 hp (430 Nm). kW) and 664 lb-ft (900 Nm). (If this seems confusing, it's because the total power of an electric car is determined by how much energy the battery can provide, not the sum of both engines.)
The motors are powered by a lithium-ion battery that lives between the axles. It has a gross capacity of 120 kWh and a usable capacity of 105 kWh, which Rolls-Royce says should be enough for an EPA range of at least 420 kilometers. That seems like a reasonable estimate; checking the trip computer showed that over a few thousand miles our pre-production Specter averaged 2.5 miles/kWh (24.9 kWh/100 km), which is about what you'd expect for a big, heavy EV – a Ford F-150 Lightning or Rivian R1S are in similar size and weight classes and deliver similar efficiency.