Read Time:
1 Minute, 51 Second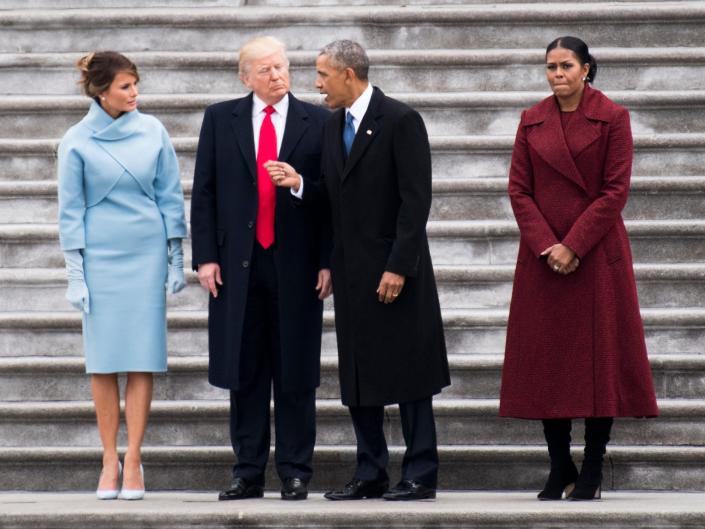 Michelle Obama said she cried uncontrollably on Air Force One on Trump's inauguration day.

Obama said she cried because "as much as we kept it together for eight years."

This was after the Obamas left the White House in 2017, on Trump's inauguration day.
Former First Lady Michelle Obama says she cried uncontrollably as she boarded Air Force One for the last time on Jan. 20, 2017.
In a clip in "Michelle Obama: The Light Podcast," Obama described her experience on former President Donald Trump's inauguration day. A preview audio clip of the podcast was released on SoundCloud on Monday.
"When those doors closed, I cried for 30 minutes. Straight, uncontrollable sobs because that's how we kept it together for eight years," she said, describing what it was like to board Air Force One for the last time at Joint Base Andrews.
Obama also shared what it was like to attend the inauguration ceremony of then President-elect Trump.
"There were tears, there was that emotion. But then to sit on that stage and look at the opposite of what we put on display — there was no diversity, there was no color on that stage," Obama said. "There was no reflection of the wider sense of America."
"And a lot of people took pictures of me and said, 'You weren't in a good mood?' No, I wasn't! But you had to keep it together, like you've been doing for eight years," Obama added.
In July 2019, Obama said in an interview with CBS host Gayle King that it was "emotionally heavy" to attend Trump's inauguration as one of the few people of color.
Four years after taking office, Trump became one of the few presidents to skip the inauguration of his successor. He left the White House on the morning of January 20, 2021, on Marine One, to fly to his Mar-a-Lago resort in Florida.
Obama representatives did not immediately respond to Insider's request for comment.
Read the original article on Business Insider