Read Time:
2 Minute, 37 Second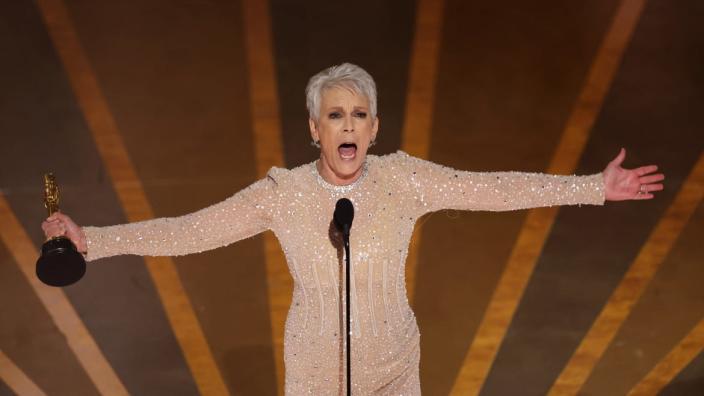 After a shocking and controversial win at the SAG Awards two weeks ago, Hollywood's most defensive fake baby Jamie Lee Curtis is once again setting the internet on fire after beating Angela Bassett for the Academy Award for Best Supporting Actress.
The 64-year-old screen veteran won the Oscar for her role as a hostile IRS inspector in Everything everywhere at once—beating not only Bassett, but also her co-star in the movie, Stephanie Hsu. Despite the excitement in the room when she won, social media didn't exactly seem thrilled about Curtis walking away with the award.
The Best Supporting Actress category has been refreshingly fluid this awards season. At first it seemed to Bassett, who was nominated for her role in Black Panther: Wakanda Forever, was on track to earn her first Oscar in her nearly 40-year career, especially after winning the Golden Globe. In 1994, Bassett controversially lost Best Actress for her iconic portrayal of Tina Turner in What Does Love Have To Do With It to Holly Hunter for that The piano. This fact, as well as her beloved status online, made her potential Oscar win this year something to look for.
Kerry Condon was also seen as a likely winner in the final weeks leading up to the ceremony. The Irish actress won Best Supporting Actress at this year's BAFTAs for her role as Siobhán Súilleabháin in The Banshees of Inisherin. Despite being a lesser known actor in the category, she quickly became a fan favorite on social media with some of her scenes from the film going viral on TikTok and Twitter. The same can be said about Hsu, who was initially written off as a dark horse, but gradually gained support from her Hollywood peers throughout awards season.
Curtis' place among the nominees has always been a bit odd, given her limited appearance of perhaps one note in the film. (I personally think she's overstaying her welcome in what seemed like some sort of screen time quota for white people.) At the very least, Curtis naysayers didn't have to listen to the actress cry out her fake baby status for the millionth time in her acceptance speech , which was actually quite endearing.
"To all the people who have supported the genre films I've made over the years, the thousands and hundreds of thousands of people, we just won an Oscar together," the Scream Queen said, seemingly to fans of horror movies.
The Halloween star devoted the entire speech to thanking people who brought her to this moment, including the EEAO's directing team The Daniels, her castmates, her children and, of course, her thespian parents, Tony Curtis and Janet Leigh.
"And to my mom and my dad, who were both nominated for Oscars in different categories, I just won an Oscar."
Keep obsessing! Sign up for the Daily Beast's Obsessed Newsletter and follow us on Facebook, Twitter, Instagram And TikTok.
Read more at The Daily Beast.
Get the Daily Beast's biggest scoops and scandals straight to your inbox. Sign up now.
Stay informed and get unlimited access to the Daily Beast's unparalleled reporting. Subscribe now.