Read Time:
3 Minute, 8 Second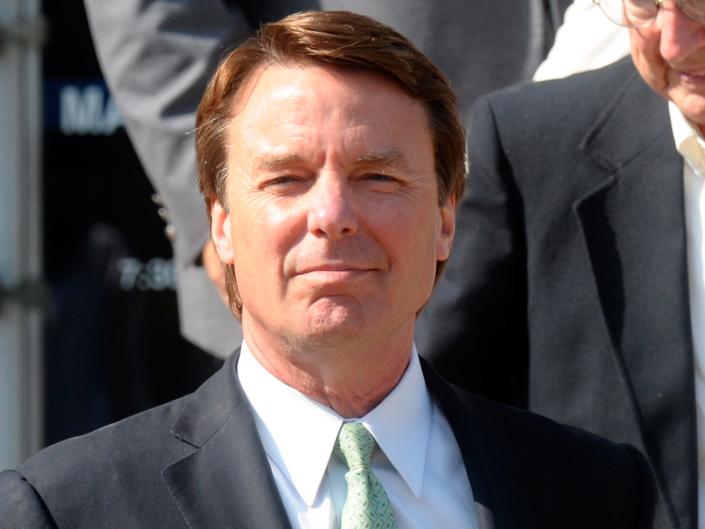 John Edwards was charged in 2011 with campaign finance violations related to his 2008 presidential run.

He was accused by the DOJ of funneling nearly $1 million in donations to his pregnant mistress.

Edwards was acquitted of one charge of campaign finance violation – the others were dropped.
As an indictment against former President Donald Trump looms over an alleged hush money payment made to Stormy Daniels to keep their affair quiet, legal experts are speculating what the outcome will be if Trump is indicted in connection with the campaign finance violation.
The last time a presidential candidate faced criminal charges for alleged campaign finance violations, John Edwards faced up to 30 years in prison and $1.5 million in fines.
Edwards was John Kerry's 2004 vice presidential running mate in the pair's losing race against George W. Bush and Dick Cheney before launching his own presidential campaign in 2008.
The felony charges the former North Carolina senator faced in 2011 — one count of conspiracy to violate federal campaign finance laws and lying to the Federal Election Commission, four counts of accepting and receiving illegal campaign contributions, and one count of concealing those illegal donations for the FEC – stemmed from its own 2008 campaign. Each carried a maximum prison sentence of five years and a $250,000 fine.
"Mr. Edwards allegedly accepted more than $900,000 in an attempt to hide from the public facts that he believed would harm his candidacy," Assistant Attorney General Breuer said in a Justice Department statement about the indictment.
A year-long investigation and trial revealed that Edwards was charged with conspiring with his campaign staff to cover up the fact that he had fathered a daughter with his mistress in 2007 while his wife was battling breast cancer.
Edwards later admitted to the affair that he was the girl's father and supported the couple financially. His wife, Elizabeth, filed for divorce after Edwards admitted the child was his, but died of her illness before criminal charges were brought.
In the case against him, DOJ officials argued that Edwards orchestrated a series of illegal donations to pay his mistress hush money, then conspired with his staff to lie about the affair and cover up the illegal donations with check memos such as "chairs" . 'antique table' and 'bookcase'.
Legal experts viewed the case as shaky because the allegations were not based on any specific federal statute, but on an FEC advisory that argued that gifts to political candidates should be considered campaign contributions, CNN and The Washington Post reported at the time.
After nine days of deliberations, a jury acquitted Edwards of one charge of accepting an illegal donation, ABC News reported, but deadlocked on the other five counts, resulting in a mistrial. The Justice Department chose not to try Edwards again, Politico reported.
"It's not illegal to be a pig," Brett Kappel, a Washington campaign finance expert, told The Washington Post at the time the suit was filed. "Is what Edwards did slimy? Absolute. Everyone will agree that it was reprehensible. But it's not a crime.'
Edwards did not immediately respond to Insider's request for comment to his law firm.
Former President Donald Trump said on Saturday he expects to be arrested next week in connection with an ongoing investigation by the Manhattan District Attorney into an alleged $130,000 hush money payment to adult film actor Stormy Daniels before the 2016 election.
While Trump said he expects to be arrested, his lawyers say this is speculation and it remains unclear what action the prosecution will take and when.
Read the original article on Business Insider