Read Time:
4 Minute, 11 Second
Thirty-five people were injured after a ship formerly owned by the Microsoft co-founder overturned in a dry dock during high winds.
NHS Lothian said 23 people were admitted to hospital, some with serious injuries, while the Scottish Ambulance Service said a further 12 were treated at the scene at Imperial Dock in Edinburgh's Leith.
A major incident was declared after research vessel Petrel became detached from its position in dry dock, leaning the 3,000-tonne ship at a 45-degree angle.
STV reported that there were about 50 refurbishment workers on board and that US citizens were involved. The US consulate in Edinburgh said it was monitoring the situation and offering support.
The ambulance service sent 12 ambulances, a trauma helicopter, three trauma teams and other resources to the scene, while the fire brigade also arrived on the scene.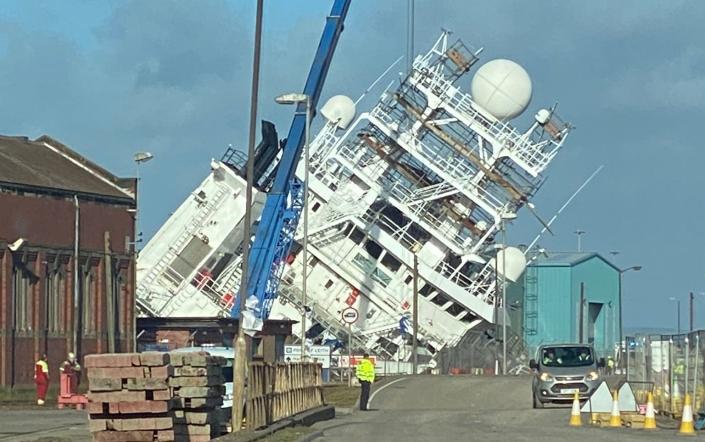 NHS Lothian received 21 patients, with 17 admitted for treatment to Edinburgh Royal Infirmary (ERI) and four to the city's Western General Hospital (WGH). Another two were taken by ambulance to Victoria Hospital in Kirkcaldy, Fife.
The health board said it was forced to cancel outpatient appointments, endoscopies and scheduled surgeries to support accident and emergency staff and free up surgeons for the influx.
A statement released just after 5 p.m. said nine of the ERI patients had been discharged and eight were still hospitalized, some with serious injuries. The four at WGH were waiting to be fired.
The 76-foot vessel was purchased and outfitted by the late Microsoft co-founder Paul Allen, but is no longer owned by his estate.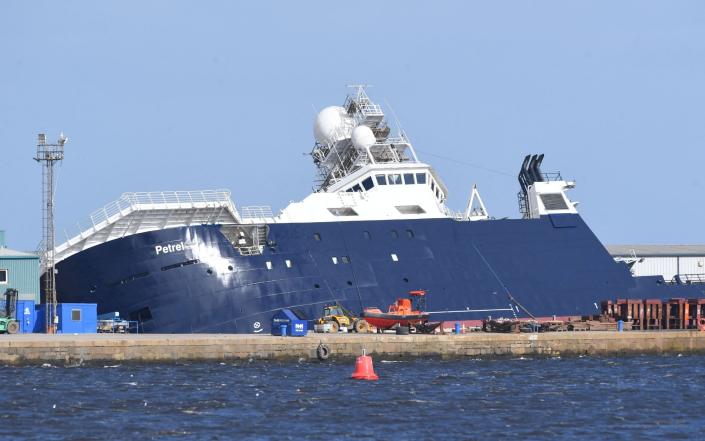 He converted it into a deep submersion research vessel in 2017, and it was one of the few vessels in the world equipped to explore 6,000 m (19,685 ft) below the ocean's surface.
It included an autonomous underwater vehicle capable of reaching extreme depths, a remote-controlled vehicle for use once targets were identified, and a multibeam echosounder.
The ship had been used for deep-water searches for shipwrecks and war graves at sea, including the lost World War II heavy cruiser USS Indianapolis, which was discovered 3.4 miles (5.5 km) below the surface.
However, it was moored for a long time in 2020 due to "operational challenges" during the Covid pandemic and has not been used since.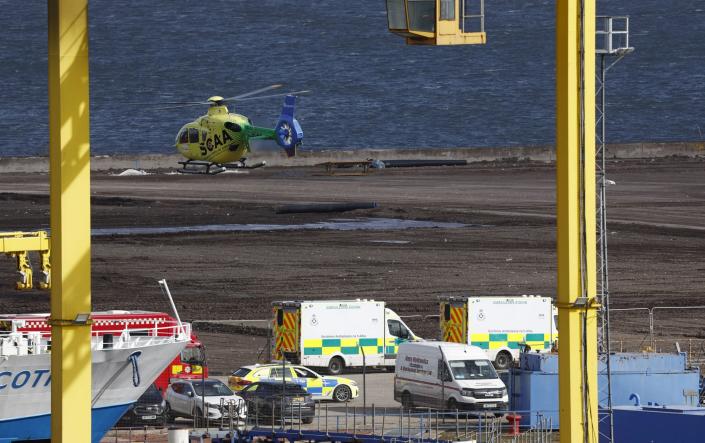 Adam McVey, a local councillor, said high winds caused the ship to dislodge and described the incident as "terrifying" for those on board.
The Met Office said a wind speed of 60mph was recorded in Edinburgh at 8am shortly before emergency services were contacted, rising to 70mph by 9am.
Several workers on the docks told The Telegraph they believed the high winds were the sole reason for the incident.
A source said: "It was windy last night into the wee hours of the morning and that's what happened here, it caused the boat to go up."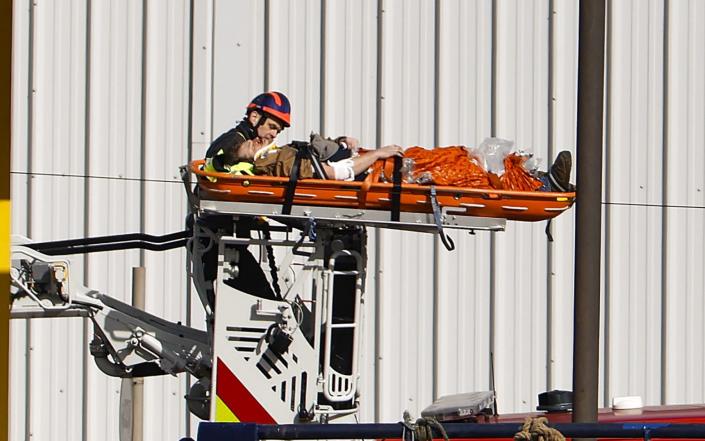 Port chaplain Pauline Robertson of the Sailors Society told Sky News workers were "shocked and bewildered" by the incident.
She said: "The staff who had been on the ship shared with me their shock, their complete disbelief that this had happened, but also the fact that they had come off that ship with walking injuries as many of their colleagues and other staff who were on it didn't work and had to go to hospital for medical treatment."
Jacquie Campbell, chief officer of acute services for NHS Lothian, said: "Our staff work tirelessly to ensure patients receive the best care and our thoughts are with everyone affected by this incident."
Supt Mark Rennie, from Police Scotland, said: "I would like to thank the partner agencies involved in the response to this incident, which involved a complex operation to ensure everyone was safe.
"There is no risk to the general public and investigations are underway to establish the full circumstances of what happened."
HM Coastguard sent teams from Fisherrow, South Queensferry and Kinghorn to the scene as part of the multi-agency response.
The Scottish Fire and Rescue Service said it had sent four fire engines and "a number of specialist resources". The Health and Safety Executive said it is aware of the incident and is investigating.
Dales Marine Services, which manages the dry dock, said it is liaising with emergency services." A spokesperson added that the company's priority was "ensuring that those affected and their families are supported".
12:12 pm
Several injured when ship overturned in Leith dry dock
Fifteen people have been taken to hospital after a ship overturned in a dry dock in Scotland's capital.