Read Time:
5 Minute, 34 Second
Tired of toiling over a hot stove only to end up eating greasy, unhealthy food?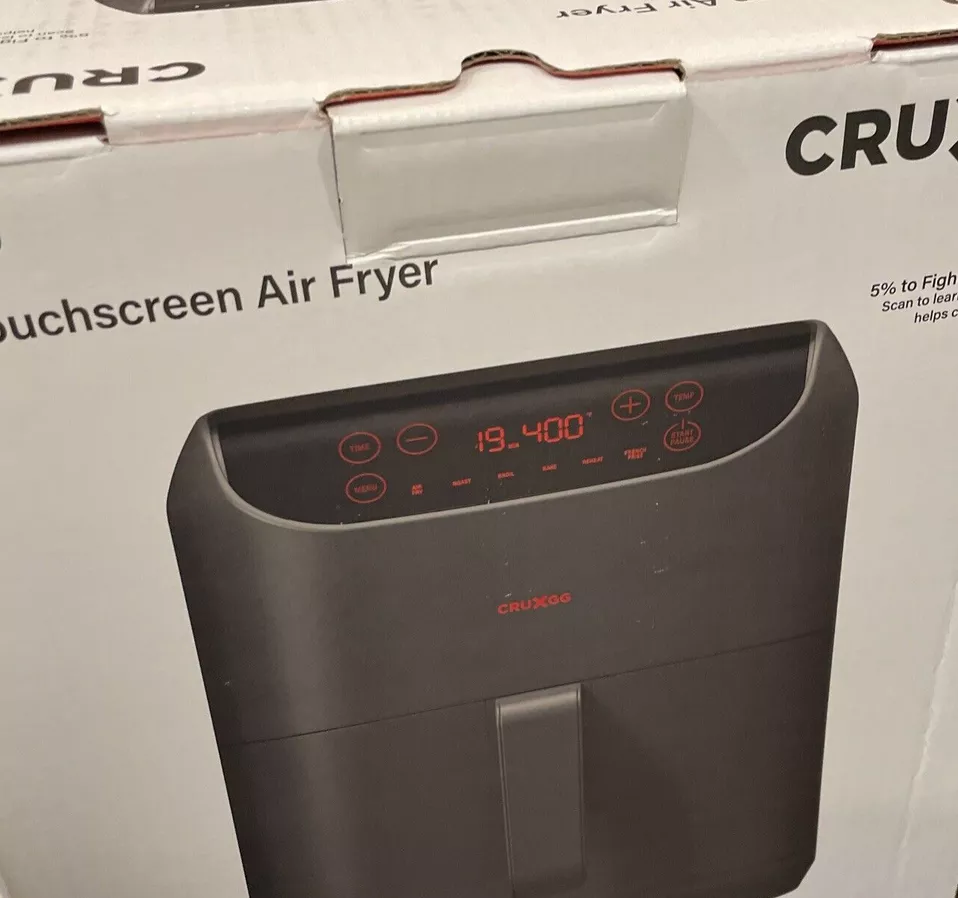 Enter the cruxgg air fryer – the kitchen appliance that will revolutionize the way you cook.
If you're looking for a way to make your meals healthier and tastier, look no further than this little miracle machine.
The Cruxgg hot air fryer not only frys your food crispy and golden, but also without any additional oil.
That's right, you can have your fried chicken and eat it too – guilt-free! Plus, with its compact size and sleek design, this air fryer is a total game-changer in terms of kitchen counter space.
Don't let the fancy name fool you, the Cruxgg Air Fryer is as easy to use as it is effective. And with a variety of temperature and time settings, you can fry, roast, bake or grill to culinary greatness.
Let's see what the 6-in-1 Air Fryer With Trizone Technology model has to offer.
| specification | Value |
| --- | --- |
| Dimensions | 15.27 x 11.02 x 12.83 inches |
| product weight | 9.7 pounds |
| model no | 17326 |
| available colours | Snow (White) and Smoke (Dark Gray) |
What I love about the Cruxgg Air Frier
This bad boy is the perfect choice for large family dinners and your meal will be ready to eat in no time.
One of the best things about the Cruxgg air fryer is that it's a healthy alternative to traditional fried foods.
Without all that extra oil, you can enjoy your favorite fried dishes without the guilt.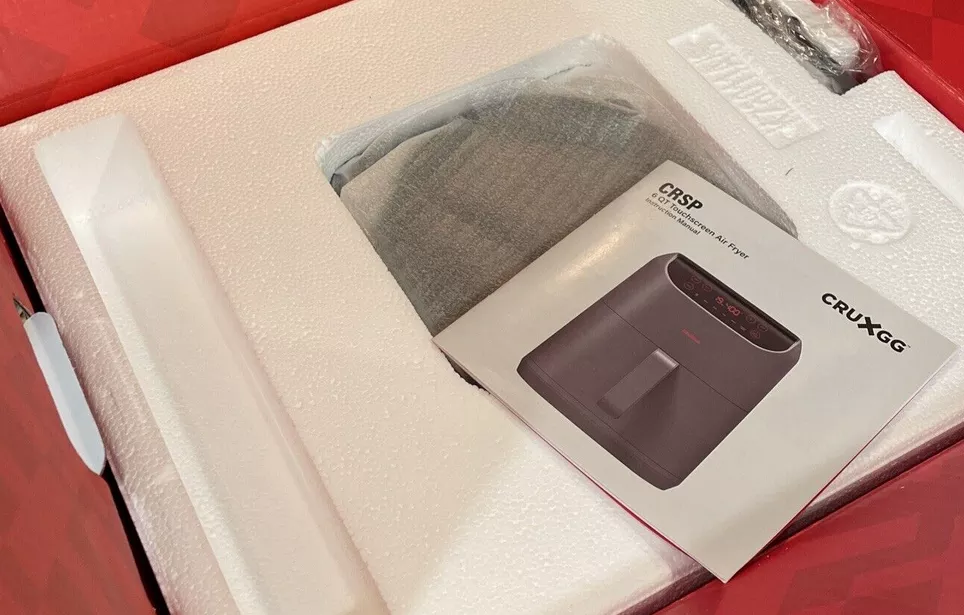 And let's be honest, who doesn't love a good fried meal?
But don't let the health factor fool you – this hot air fryer doesn't compromise on taste either. In fact, it's one of the best ways to make a delicious, crunchy meal.
And with its fast cook time and easy-to-use controls, you'll have dinner on the table in no time.
Clean up after cooking can be a hassle, but the cruxgg air fryer makes it easy. The non-stick surface and removable parts mean you'll be cleaning your deep fryer in no time.
And with its ability to cook an entire large main course, you don't have to worry about messing up a number of different dishes.
Other features I liked
Not only is it a fantastic way to prepare crispy, delicious meals, but it is also the first air fryer that allows you to cook 2 different foods at different temperatures with two different timers.
That's right, you can fry your chicken wings at one temperature while your sweet potato fries cook at another. And with the ability to set two different timers, you don't have to worry about overcooking or undercooking your meals.
But that's not all – the Cruxgg Air Fryer is also equipped with a handy divider that allows you to cook two different dishes in the same basket. Would you like to prepare fish and chips at the same time? No problem. Just use the divider to keep them separate and cook them to perfection.
And if you're preparing a larger meal, you can remove the divider and use the entire basket for larger meals. This means you can easily cook a whole chicken or a large batch of fries.
How to clean the Cruxxgg hot air fryer
cleaning Your Cruxgg air fryer is child's play.
First, make sure the fryer is unplugged and let it cool down.
Once safe to handle, remove the fry basket and crisping tray.
Wash them well in hot, soapy water, but only use plastic utensils.
And that's it – your fryer is sparkling clean and ready for your next culinary creation!
Is Cruxgg a good air fryer?
Okay, let's get down to business – is the Cruxgg air fryer any good?
Look, I'm not one to mince words, so I'll tell you straight – this thing is the real deal.
First, let's talk about the most important thing – the food. And let me tell you, the Cruxgg air fryer doesn't disappoint.
You want crispy fries? Completed. How about juicy chicken wings? You have it. And don't even get me started on the deliciously crispy fried chicken. The Cruxgg Air Fryer cooks your food to perfection, with the perfect balance of crispiness and tenderness.
But what about the machine itself?
Well let me tell you, this air fryer is a beauty. With its sleek design and simple controls, it's a pleasure to use. And let's not forget the non-stick fry basket that makes cleanup an absolute breeze.
Well, I know what you're thinking – this all sounds too good to be true, doesn't it? Well I can assure you the Cruxgg air fryer is the real deal. And with its affordable price, it's an investment that's totally worth it.
Crux is made by a company called Gather that has an excellent reputation in the industry.
Should I buy an air fryer?
The air fryer is the kitchen gadget that promises all the guilt-free deliciousness of fried food (or so it claims). Let me tell you this little gadget is a game changer. Here are some of the benefits of an air fryer that will make you want to ditch your traditional deep fryer faster than you can say "spray hot oil."
Comfortable
First, let's talk about convenience. You can make a batch of crispy, crispy fries in minutes with an air fryer. No need to preheat the oven or wait for a pot of oil to heat up on the stove. Simply add the food of your choice, set the temperature and time and voila! Your meal will be perfectly prepared every time.
Healthy
And let's not forget the health benefits. Because air fryers use hot air to cook your food, they require little to no oil. This means you can enjoy all your favorite fried dishes without the extra calories and fat. It's like having your cake and eating it, except the cake is actually a plate of fried chicken.
Versatile
But wait, there's more! Air fryers are also incredibly versatile. You can use it to cook anything from vegetables to chicken wings to fish. You can even bake a cake in an air fryer! It's like the Swiss army knife of kitchen appliances.
And if you're worried about cleaning up, don't worry. Air fryers are a breeze to clean, especially when compared to traditional air fryers. No more spending hours scrubbing greasy pots and pans. Just wipe the basket and you're done.
Verdict
In conclusion, if you are unsure whether or not to buy the Cruxgg air fryer, let me make it easy for you – just do it. Trust me, your taste buds (and stomach) will thank you.