Read Time:
7 Minute, 22 Second
report highlights

Americans eat about 8 billion chickens annually on average.
In 2021, the US produced approximately 9.2 billion chickens.
Broiler chicken is the most consumed meat in the US, even surpassing beef and pork 96.4 pounds per person.
Americans consumed about 1.4 billion chicken wings on Super Bowl Sunday 2022.
Nearly a fifth fresh chicken is wasted in the US.
KFC had 3,943 units in 2020and it's the most popular restaurant in the chicken chain.
Americans consumed about 28 pounds chicken in 1960, but that number rose to 98.1 pounds in 2021.
The US consumes more chicken than any other country.
Intensive farming is the most common chicken farming method, although it results in poor chicken welfare.
People eat around the world 197 million chickens per day.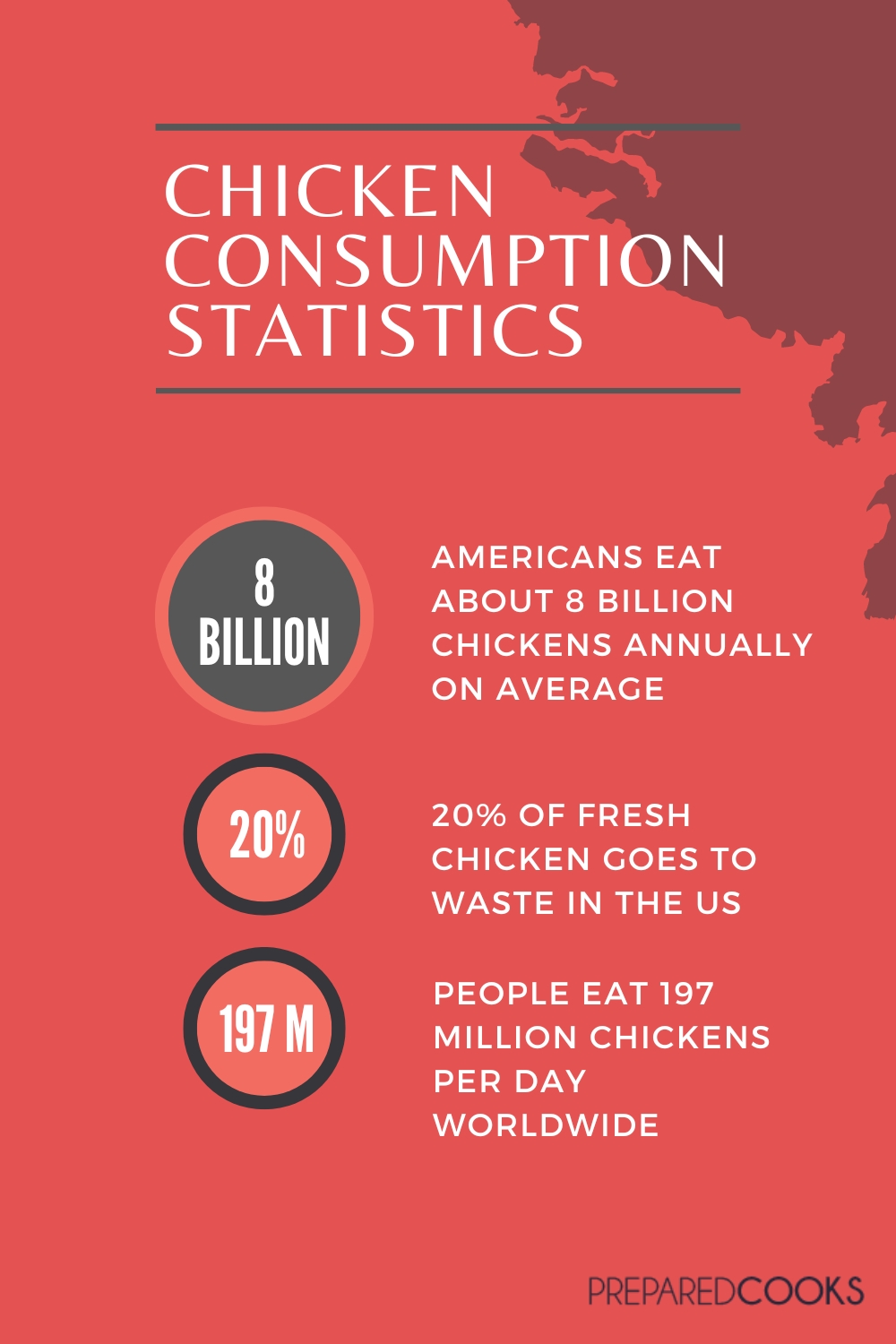 General chicken consumption
US consumption of chicken has reached an all-time high, even surpassing that of beef, which used to be the best meat.
Despite chicken shortages, Americans still eat the meat, and the US even exports some to other countries, although not all of the chicken produced is eaten.
How many chickens are eaten in the US?
Americans eat more than 21.9 million chickens every day.
A single hen lays an average of 325 eggs per year.
There are about three chickens for every person in the world.
People eat chicken on its own, in soups, or stuff it with other things.
Chicken consumption has increased in recent years, even as the price of chicken has increased.
A shortage of chickens has contributed somewhat to a shortage and rise in the price of eggs.
Iowa is one of the largest chicken producers in the United States, contributing around $2 billion to the state's economy.
In 2020, approximately 9.8 million chicken eggs were hatched in the United States.
The US exports about 7.3 billion pounds of chicken a year.
Americans keep about 925 million pounds of meat from chickens in cold storage at any given time.
At almost 24%, chicken breast accounts for the largest share in the cold store.
Tyson Foods is one of the leading manufacturers of chicken meat.
The average American eats 2,232 chickens in their lifetime.
If you gave up meat one day a week, you could save about 319 chickens in your lifetime.
Eliminating meat from your diet six days a week would save 1,913 chickens.
Chickens make up about 95% of all meat Americans eat.
Americans who have switched from beef to chicken have reduced feed requirements.
Overall, chicken consumption in restaurants increased by around 24% in 2021.
Relatively small chain Dave's Hot Chicken saw the fastest growth at 327%.
Interest in plant-based meat alternatives has increased by 1,320% in recent years.
Chicken consumption at home
Many Americans have started eating chicken at home, particularly with the COVID-19 pandemic lockdowns, and that trend isn't expected to stop any time soon.
From organic chicken to chicken thighs, sales of some types of chicken have increased in recent years.
Americans consume approximately 25 billion chicken wings in a year.
Organic chicken increased from 2% to 6% of total chicken consumption from 2017 to 2022.
Sales of organic chicken have increased faster than sales of other types of chicken.
Organic and free range chickens tend to taste better than traditionally raised chickens.
In 2021, antibiotic-free chickens accounted for 36.8% of all grocery store chicken sales.
Food chicken sales increased about 9.9% from mid-2021 to mid-2022.
Inflation has hit chicken harder than many other items, with average price increases of about 17.6% year over year.
Despite inflation, Americans still try to consume it even though they find ways to save money.
Chicken thighs are one of the cheapest options at $1.26 per pound.
Chicken wings price outperformed chicken breasts after a $0.62 rise compared to a $0.42 rise in breast prices.
Online chicken sales have grown exponentially in recent years.
Chicken breast accounts for 58% of all grocery store chicken sales.
The chicken retail market is worth $13.7 billion.
Sales of dark meat chicken are growing faster than sales of white meat.
The increased demand for poultry has had one of the biggest impacts on the market.
Chicken sales are up 14% compared to 2019 sales.
A Justice Department investigation found that price gouging is a big problem when it comes to chicken prices.
The high level of processing and packaging makes chicken breast fillet the most difficult type of chicken to find in stores.
Supply chain issues have resulted in Tyson Foods producing about 8.5% less chicken on a quarterly basis.
Fried chickens have generally been available for about the same price lately, especially at stores like Costco.
Costco sells about 106 million fried chickens a year.
In 2019, Costco opened a processing facility to make its own fried chicken to keep costs down.
Many grocery stores have kept fried chicken low to attract customers so they can make money in other areas.
Salmonella infected about a third of the ground chicken collected in one study.
Eating food infected with Salmonella sickens an average of about 212,000 people annually.
In the first half of 2020, about 48% of Americans bought poultry or other meat products from grocery stores, likely due to increases in home cooking.
Around 52% of those surveyed in 2020 said they would likely continue to buy poultry or other meats from grocery stores after the COVID-19 pandemic.
Just over half (51%) of Americans find alternative meat options when their first choice is out of stock.
Only 11% of Americans look to plant-based alternatives when they can't find the meat they want.
Manufacturers chill 99% of chickens with water, which can cause them to lose their flavor.
About 10% of the chickens you can buy at the grocery store have some kind of antibiotic resistance that can make you sick.
Over 1.5 billion pounds of poultry meat is wasted every year.
Sales of chicken combo packs and chicken ingredient packs increased by 5.3% and 2.6%, respectively.
Shorter production cycles have helped combat some of the issues related to chicken shortages.
Chicken consumption in restaurants
Even though many people eat more at home, restaurants are still a popular place to get food, and chicken is a more common choice than you might think.
From larger chicken chains to smaller, local chains, Americans have continued to visit chicken restaurants or even started visiting new ones.
Chick-fil-a is the top-grossing chicken restaurant chain in the United States, with sales of $5.8 billion in 2021.
KFC and Popeyes are the second and third largest chicken chains, though they both have more locations than Chick-fil-a.
The fast food chicken market is worth about $55 billion as of 2022.
Fast-food chicken franchises are expected to grow 9.4% by the end of the year.
This fast-food chicken market has been growing faster than the overall US economy.
Many city dwellers eat out at restaurants to save time.
Raising Cane's saw a 38% increase in sales from 2020 to 2021.
Revenue at WingStop grew 21% over the same period.
Chicken wings are the fastest growing chicken menu item in restaurants.
In fact, consumption of fried chicken in restaurants has fallen by almost 30% in the last year.
Americans eat fried chicken from restaurants twice a year on average.
Fried chicken can be found in about 22.29% of all restaurants in the US.
Chicken consumption on special occasions
Super Bowl weekend is one of the busiest weekends of the year for eating chicken, especially chicken wings.
Consider how much the consumption of wings has increased, especially around holidays and major sporting events.
Super Bowl Sunday is the most popular day for Americans to eat chicken wings.
On SB Sunday alone, Americans ate enough chicken wings to circumnavigate the world almost three times.
That amount of chicken weighs 338 times the weight of all 32 NFL teams.
The US Southeast eats about 13% more chicken wings than average.
During Super Bowl weekend, about 75% of chicken wing orders come from restaurants, compared to 25% from grocery retailers.
It would take a person over 1,265 years to consume all of the wings that all Americans consume on Super Bowl Sunday.
Chicken wings consumption on Super Bowl Sunday is increasing by about 1.1% each year.
Chicken wings prices increased by about $0.05 per pound from 2021 to 2022.
Each year chicken wings tend to increase in price leading up to the Super Bowl.
From Super Bowl Sunday 2021 to December 2021, the amount of available chicken wings has almost doubled from £36.7million to £73.2million.
Americans eat more than 710 million chickens over Super Bowl weekend alone.
references