Read Time:
2 Minute, 17 Second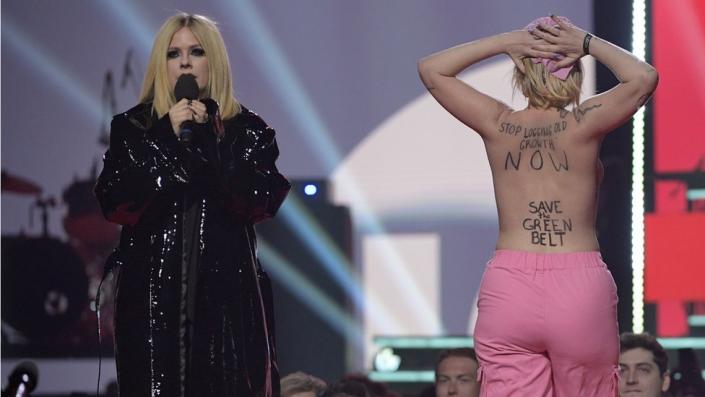 Avril Lavigne confronted a topless environmental protester on stage at the Juno Awards, the Canadian equivalent of the British.
When the singer introduced a performance at the start of Monday's ceremony, a woman ran onto the stage behind her.
A message on her back read "save the green belt", apparently referring to a controversial housing plan by the Ontario government.
Lavigne tried to finish her speech before confronting the woman.
"Grab the [expletive] out," she said, beating her chest, Canada's CBC News reported. The woman was then escorted off stage by a security guard.
The pop rocker alluded to the intruder in her later acceptance speech.
"Now, nobody's trying anything this time. I'll do it [mess a woman] up," Lavigne joked, accepting the TikTok Juno fan choice award.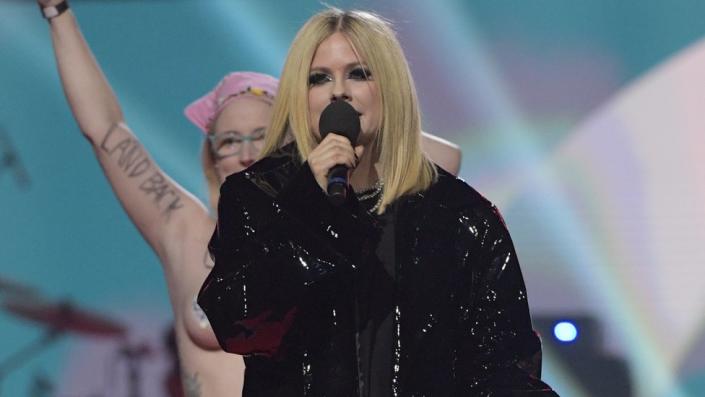 The host of the ceremony, Shang-Chi actor Simu Liu, praised Lavigne, who is from Ontario, for "treating that topless lady like a champ".
In November, the Ontario government issued new regulations to remove 7,400 acres of protected Greenbelt land and open it to housing, with 50,000 new homes to be built by 2025.
The move, which has been criticized by environmental groups, is being investigated by the county's auditor general and integrity commissioner.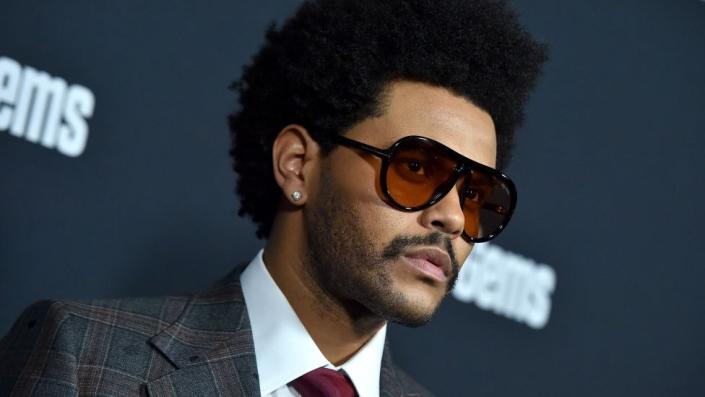 Elsewhere in the evening, Toronto singer The Weeknd became the Juno's second most honored artist of all time.
The star won album of the year for Dawn FM – a concept record set in Purgatory – giving him his 22nd Juno award, overtaking Celine Dion and Bryan Adams.
Only country pop singer Anne Murray has more, with 24.
The musician, whose real name is Abel Tesfaye, did not attend the event and his absence reportedly sparked a booing from the crowd at the Rogers Place venue in Edmonton, Alberta.
Meanwhile, rock band Nickelback, whose lead singer Chad Kroeger used to be married to Lavigne, was inducted into the Canadian Music Hall of Fame at the event.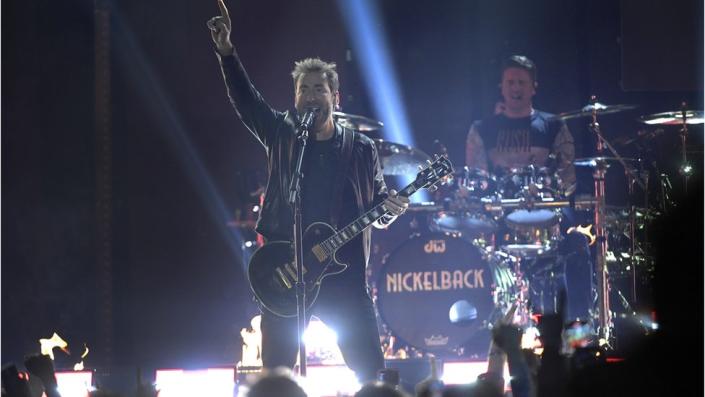 "Twenty-seven years, blood sweat and tears, started 200 miles southeast of here in a little town called Hanna," Kroeger said, referring to the band's hometown.
"We had no idea what we were doing and most of the time still don't," he added. "But everything we did eventually led to this moment here. But we didn't get here without a lot of help."
Then they closed the show with their hits Rockstar, How You Remind Me and Animals.
Read the full list of winners.