Read Time:
2 Minute, 2 Second
An arrest has been made in connection with the death of Los Angeles Auxiliary Bishop David O'Connell, who was found dead Saturday at his home in Hacienda Heights.
The Los Angeles Sheriff's Department announced Monday morning that an arrest had been made and the Los Angeles Times reported that a man had been arrested in the city of Torrance, citing a law enforcement source.
Authorities told USA TODAY that Sheriff Robert Luna will hold a press conference at 3 p.m. PST to reveal details of and arrest the suspect.
The suspect has been linked to a woman who has access to the bishop's home in Hacienda Heights, about 25 miles northeast of Torrance, the Los Angeles Times reported.
The arrest comes less than 24 hours after authorities said the high-ranking Catholic Church's death is being investigated as murder.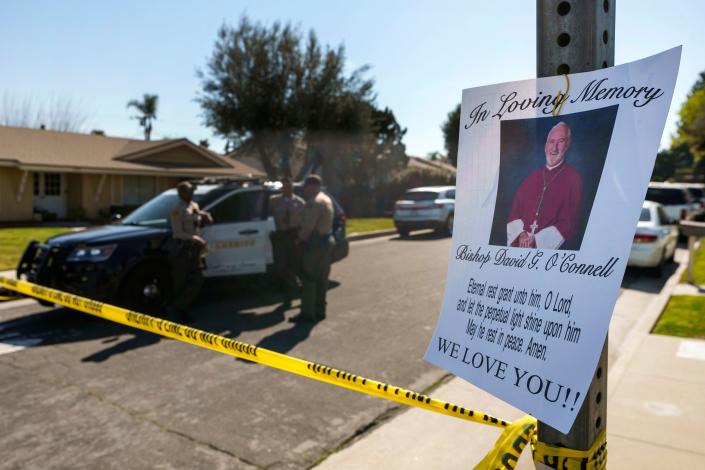 What we know about O'Connell's death
Homicide detectives arrived Saturday afternoon at the home in Hacienda Heights, about 15 miles east of downtown Los Angeles, to respond to a "murder-by-shooting investigation." Officers found O'Connell with a gunshot wound and he was pronounced dead at the scene.
O'Connell, who was from Ireland, was ordained a priest for the Archdiocese of Los Angeles in 1979, the Vatican News reported. Pope Francis named him Auxiliary Bishop of Los Angeles in June 2015.
Archbishop José H. Gomez of Los Angeles said in a statement Sunday that he was "deeply troubled and saddened" to learn that O'Connell's death is under investigation as homicide and asked for prayers for his family.
"He was a peacemaker with a heart for the poor and immigrants, and he had a passion for building a community where the sanctity and dignity of every human life was honored and protected," Gomez said in a statement Saturday. "He was also a good friend and I will miss him very much."
Masses in churches across the region were dedicated to O'Connell on Sunday. Neighbors and parishioners left flowers and candles and said rosary prayers next to police tape in Hacienda Heights. About 50 people prayed and chanted during a vigil Sunday afternoon near part of the district, surrounded by crime scene tape.
Contributions: Associated Press
Follow Jordan Mendoza on Twitter: @jordan_mendoza5.
This article originally appeared on USA TODAY: Arrest Made in Death of Los Angeles Bishop David O'Connell