Read Time:
3 Minute, 8 Second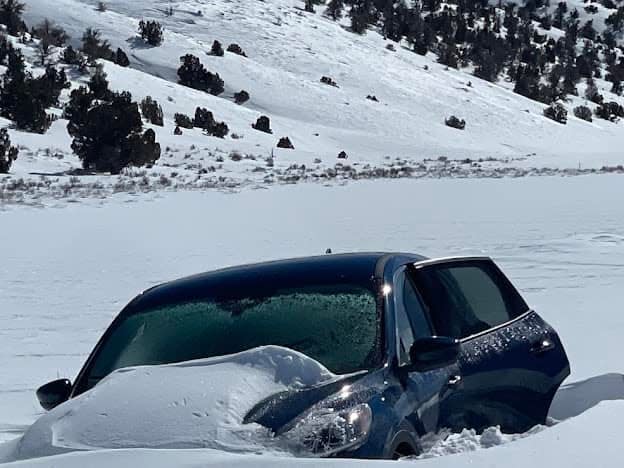 An 81-year-old man who was covered in snow in his car for a week survived by eating croissants he had in his car.

Jerry Jouret was on his way from California to Nevada when a rare severe winter storm hit the area.

A week later he was found and rescued. His brother called his rescue "a miracle."
An 81-year-old man who was buried in his car for a week after a major snow storm in California told his brother he survived by eating snow and the croissants he had in his car.
Jerry Jouret of Big Pine, California, took off for Gardnerville, Nevada, on Feb. 24, just before dozens of feet of snow were dumped on The Golden State.
What should have been a three-hour ride for Jouret turned into a seven-day ordeal.
On the morning of Feb. 24, the California Highway Patrol warned residents that bad weather was approaching and advised drivers to exercise caution on the road, according to a Facebook post.
Fox Weather reported that Jouret had told his family that the major highway he would normally take – Highway 395 – was closed due to snow and ice, so he opted instead to take the smaller Highway 168 to reach Gardnerville.
But as the snow and wind made visibility difficult, he accidentally swerved onto an even smaller road where he got stuck – just 15 miles from the start of his journey.
Hiding in his dark green Ford Escape, Jouret later told his brother that he survived the seven days and six nights until he was saved by eating snow and croissants he had in his car.
"I do believe it was a miracle," Joe Jouret told Patch on Friday.
Meanwhile, after four days of not hearing from Jerry Jouret, his family reported him missing to the Inyo County Sheriff's Office on Feb. 28, the office said.
Another storm the next day, Wednesday, March 1, delayed search efforts until Thursday, March 2. The sheriff's office began searching on the ground while the California Highway Patrol searched from the air.
Around noon that day, a cell phone ping from the day Jouret went missing identified his location. Rescue crews focused their search specifically on an area near Death Valley Road, "a rough road that runs south of 168 and leads into Death Valley National Park," the Inyo County Sheriff's Office said.
Because the car was buried under snow, Jouret's car looked like a rock.
After six hours of searching the area, the CPS had returned to refuel, but the pilot "looked down and he saw what appeared to be a rock as he looked down. He had another man with him in the helicopter." …and when they looked down there it was [my brother's] car. He was almost buried in the snow, but not quite," Joe Jouret told Patch.
"He took his hand out of the window and waved it," said Joe Jouret.
Relatives of Jouret, including his grandson and niece, shared the news of his rescue on Facebook last week.
"After being trapped in a car under freezing snow for 6 days and 6 nights, without food, water and a very thin blanket, my grandfather was rescued by helicopter today," wrote Christian Jouret. He had been posting messages all week to raise awareness and ask for prayer.
Jouret was immediately taken to the airport to be transported to hospital for medical attention, where he was released later that day.
"He was smiling all the way back to the airport," Joe Jouret told Patch. "He was happy to get out of that situation."
Read the original article on Insider